Top 5 Springtime Activities in Toronto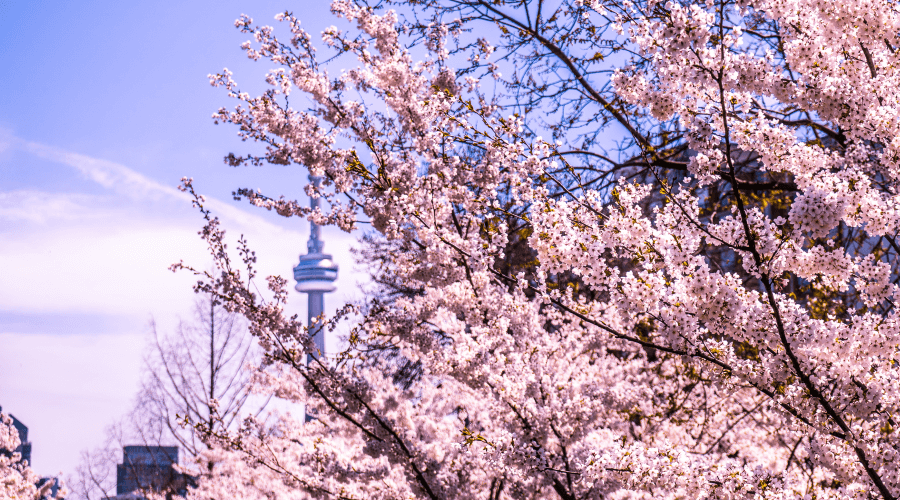 Meaghan Mcisaac | April, 18, 2022
When temperatures rise and the snow begins to melt, Toronto comes to life with springtime activities all over the city. Shake off your winter hibernation and check out our top five picks of things to do in spring!
Sakura in High Park
With 339 acres of hiking trails, sports facilities and beautiful lakefront, High Park is Toronto's largest public park and home the spectacular Sakura trees that bloom in April or May each year. The rows of beautiful pink cherry blossoms attract thousands of visitors to the park and provide the perfect setting for a romantic walk or a stunning selfie. Keep watch on the cherry blossom's progress, as the blooms only last a week or two!
Kensington Market
Take a stroll through Kensington Market, a diverse and historic neighborhood located in the heart of the city.  Spend the day shopping everything from trendy cafes and vintage boutiques to specialty grocers, bakeries and fine or casual dining. A hub of amazing artists, take in a street performance or two or check out the many incredible murals and sculptures that line the streets.
Tommy Thompson Park
Get a little wild experiencing all that nature has to offer at Toronto's own wildlife haven in Tommy Thompson Park. Located on 5 km of man-made peninsula on Lake Ontario, Tommy Thompson Park has great trails for hiking, rollerblading, cycling and more. Bring some binoculars and spend the afternoon birdwatching all the many varieties of local species that live there.
Jays Game (start of the season)
The Toronto Blue Jays kick off their season in April, so grab some tickets and head down to the Roger's Centre to enjoy a beer and a hot dog while cheering on the Jays! It's always best when the massive dome of the Rogers Centre is open, but no need to worry about your game getting rained out – the dome closes!
Evergreen Brick Works Saturday Farmers Market
A new season means all new kinds of yummy foods to find! Head to Evergreen Brick Works for their Saturday afternoon Farmer's market. The largest farmer's market in the city, you can find fresh, seasonal produce, local prepared foods, and a variety of artisan crafts and specialty food products.
With warmer temperatures outside and a lot more sunshine to look forward to, make plans to get outside and enjoy all the city has to offer. With friends or flying solo, there is so much to do and see in Toronto. For more information on spring time in the city, send us an email at info@niagaracollegetoronto.ca or visit our website!
---
Recent Blogs