3 Tips for Making and Keeping New Year's Resolutions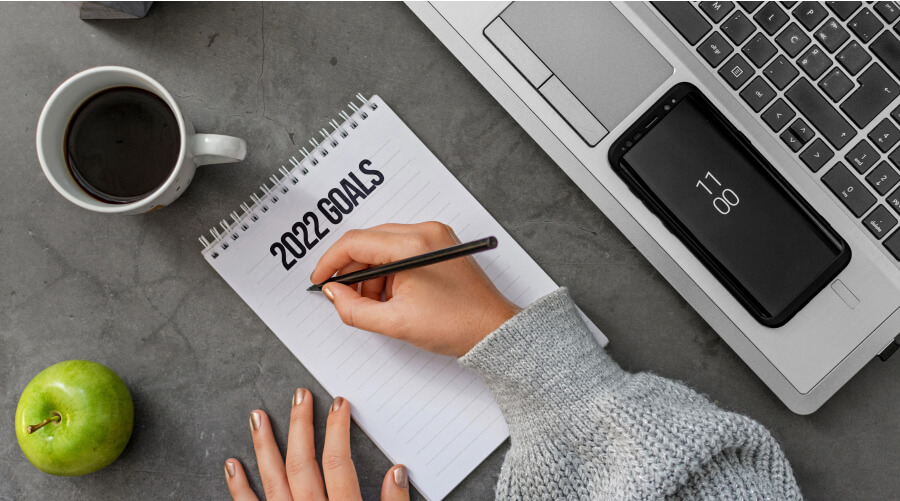 Alisha Sevigny | December, 28, 2021
Welcome to 2022! Now is the time when people think about their resolutions for the coming New Year. Resolutions are usually things that we either want to stop or start doing. Some common examples of resolutions are to eat healthier, exercise more, stop a bad habit, or take more time to work on your mental health. Often, they are related to health and wellness, but they can also be related to your education or career, and life in general. Resolutions are a bit different from goals, which we will examine in a later post.
In today's blog, we will look at how you can make and keep (the hard part!) your resolutions for the upcoming year!
1. Think about what you want and why you want it.
Knowing your why is important if you want to put consistent habits into place. For example, maybe one of your resolutions is to eat healthier foods. Thinking about the "why" is essential for giving you the motivation to accomplish this. Maybe you want to feel better, have more energy to do the things you love, and to limit the physical illnesses that can occur when we don't take care of ourselves properly. Whatever your resolutions, knowing the reasons behind them will help inspire you to keep them.
2. Have a Plan in Place to Help you Stick to your Resolutions.
Having a set of actionable steps will further support your resolutions. For example, let's work with the same goal as above: eating healthier. Small steps like buying more fruits and veggies (and remembering to eat them instead of letting them go bad in your fridge 😉), limiting fast foods when you can, and cooking nutritious meals at home at least a few times a week (which can also save you money!), will all contribute to your resolutions' success.
3. Make sure your Resolutions are Realistic.
While it's good to dream big and reach for the stars, if your resolution is to make a million dollars by the end of the year, odds are (unless you get lucky with a crypto investment), you may want to think about revaluating your timeline. This is also more of a goal than a resolution and having unrealistic ambitions may set you up for disappointment. That's not to say you shouldn't challenge yourself or try your best, but don't set yourself up to fail before you start. Simple changes you can make to your everyday lifestyle are usually a good bet. It's been said that it usually takes several weeks or months to form a habit, so if you slip a few times, try to stay positive and carry on!
Whatever your resolutions are for 2022, knowing what you want and why you want it is crucial to helping you keep them. Remember, it's never too late to start something new or to give up something you've been wanting to for years. Ultimately, we only have a short time in this life, so make sure you are aligning your goals and dreams with what is important to you. Wishing you continued success in 2022!
If one of your resolutions is to improve your education and chances of a successful career, then don't hesitate to contact Niagara College – Toronto today. Our NCT staff will be delighted to help you achieve your dreams, whether that involves obtaining a certification or studying, living, and working in Canada. Email us at info@niagaracollegetoronto.ca to find out more!
---