4 Ways to Stand Out and Build Experience as a Human Resources Professional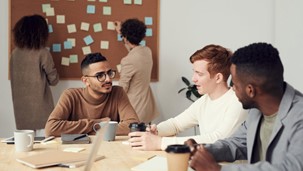 Nandita Kaushal | March, 30, 2021
To find success in a competitive sector like human resources (HR), you have to continuously focus on building your skills. Making the right impact on employers both personally and professionally through a resume is essential for advancement in the field.
Balancing the right combination of skills that involves being approachable, assertive, empathetic and professional is not as easy as it sounds. To have the redeeming qualities of a top HR professional requires dedication, hard work and a knack to know and understand relevant new changes in the industry.  
In a recent survey on Deloitte's leaders, only five per cent ranked their HR performance as excellent and 46 per cent said they were adequate. While there may be other factors, poor ratings were the result of a lack of innovative solutions or programs conducted by HR professionals.
In HR, there is tremendous opportunity to influence the way an organization functions and therefore a professional must equip themselves with the right tools and learning. From the hiring process to working with a company, an HR professional has to stand out in terms of communication, management support and more!
Stay updated with the right technology 
The digital age has made a lasting impact on all job roles and continues to usher in new innovation. Since the role of an HR professional is to enable the progress of the workforce through new technological processes, they must stay up to date on it. 
Top HR leader Dave Millner suggests that everyone working or planning to work in a human resource department needs to be aware of all the new developments in the industry. By bringing in the right technology, HR professionals can directly impact the organization's capability to function and in turn propel the growth of the organization. 
The current pandemic is a clear example of how an understanding of correct remote working tools helps smoothen the operations of many companies. Similarly, various software for collaboration, automation, procurement and more have to be used to boost efficiency. By keeping up with these technological advances, progress is inevitable.
Ability to build relationships 
In a study conducted by American firm 'Zenger Folkman' published in Harvard Business Review, one of the top HR skills that employers seek is the ability to build positive relationships. 
The core job of HR revolves around people and fostering interpersonal relationships. It makes sense that organizations expect HR professionals to cultivate a productive and nurturing work environment.
As the world becomes more globally connected and people from different cultures continue to work together, it is integral to instill principles of inclusivity and respect. An HR professional who displays the skill to listen, understand and address the concerns of staff members and can handle sensitive issues well is sure to succeed in the long run. 
Active engagement 
It's clear that HR professionals must have leadership qualities but what does that really entail? In her book "HR Leadership", Linda Holbeche talks of how the quality of 'leadership' not just benefits the individual but also extends to the company. A true leader will take an active part in the entire organization instead of being limited to their department. 
Given how the HR department is brought in to participate in all major decisions made by the company, it becomes important that your responsibilities extend towards other functions. One of the goals of HR professionals is to step up as a leader and participate in all important matters. 
Inspire creativity 
One of the critical components to effective human resource management is creativity. An HR professional, you are expected to be innovative and think out of the box. This requires tapping into the creative side of things and finding interesting solutions to help office staff. 
Additionally, this will impact the organizational culture where employees will feel more open about sharing ideas. It will also foster cross-team collaboration and have an overall positive impact on work. 
Google has a popular "20-Percent Rule" for employees where they solely focus on creative ways to help the company perform better. According to the founders, this is what led to Google News and Gmail. 
Businesses always rely on HR professionals to come up with fresh, new ideas so staying creative is essential!
Interested in making a career in the field of human resources then check out the 1-year Graduate Certificate offered by Niagara College – Toronto. The program comes with 300 hours of practical experience helping you gain a deeper insight into the sector. 
Additionally, the college offers a range of graduate certificates and undergraduate diploma programs taught by a highly experienced and dedicated facility.
Students who successfully complete the Graduate Certificate program at Niagara College - Toronto, become eligible to apply for the Post-Graduation Work Permit Program (PGWPP) in Canada, which makes them applicable to take up work opportunities in Canada.
Click on the links for more info!
---
Recent Blogs