5 Top Toronto Spots for Valentine's Day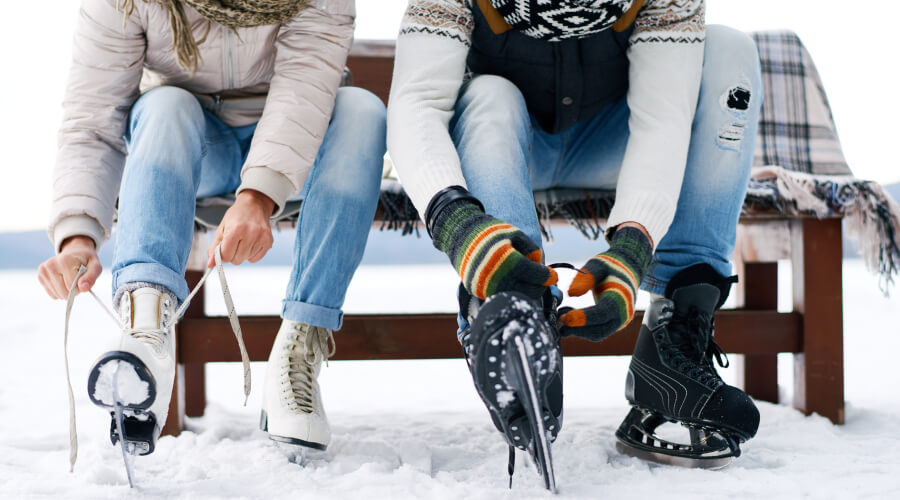 Alisha Sevigny | February, 14, 2022
It's Valentine's Day, and with many Canadians planning to celebrate love and romance, it's no surprise that the city of Toronto is full of COVID-friendly places to spend the day. Whether romantic love, family or friendship is top of your list this Valentine's, we've got you covered for a special time with your Valentine.
Toronto Light Festival
Bundle up and fill up a thermos of hot cocoa before heading down to the Distillery District for the Toronto Festival of Lights. Now in its fourth year, the Festival of Lights features thirteen acres of light artworks to inspire and delight. Created by local international light artists, the Festival offers a playful adventure though the walking streets of the scenic Distillery District. And bonus: it's free!
Skating
Whether daylight or starlight, a skate on any one of the City's amazing outdoor rinks is a great way to spend time with your Valentine. Peak underneath the Gardiner Expressway to find a 220 meter figure eight ice track at The Bentway, or take in the city sights while skating at Nathan Phillips Square. Since you can skate at no cost, you can save your money to spoil your valentine with skate rentals, and don't forget an après-skate hot drink for your sweetheart!
Crokicurl
Uniquely Canadian, you can check out Toronto's first ever crokicurl rink at the stackt market on Bathurst St. A blend of curling and crokinole, all of your friends and family can spend the day on the massive ice rink with bookings for 2-8 players available through the stackt market website. Enjoy the heated patio and brewery and take in a little window shopping at the market!
Terra Lumina at the Toronto Zoo
Enjoy a moonlit stroll on 1.5 km of the Toronto Zoo's walking trails for Terra Lumina, an immersive light show that asks visitors to imagine the year 2099. Tickets can be purchased on the Toronto Zoo website. You'll know it's true love when your valentine and you can walk through a time travelling portal together!
Outside the City
Escape the city for the weekend and take in the fresh air at one of Canada's beautiful National Parks. There are many different parks to choose from, with yurts available for renting for a unique winter camping experience. It may be cold outside, but with a yurt all to yourselves, you and your valentine will be warm and toasty.
There's no shortage of outdoor activities in Toronto for a romantic day with your Valentine or fun with friends and family. So get out and celebrate the ones you love. Happy Valentines Day!

---