8 Tips to Beat the Winter Blues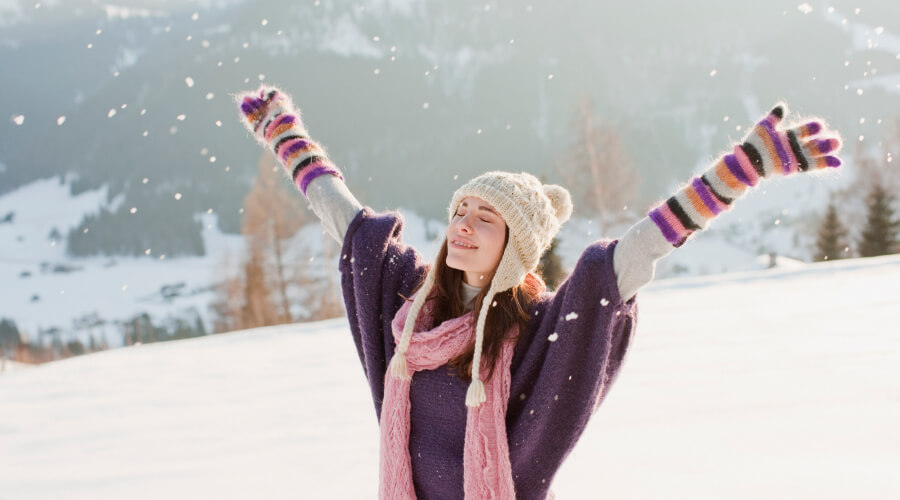 Alisha Sevigny | February, 8, 2022
This time of year in most of North America is dark and cold, and spring can seem very far away. If this is your first year abroad in Canada, it might feel like winter drags on forever, especially if you're from a country where it's usually sunny and warm. Here are eight quick and easy tips that can help you beat the winter blues!
1. Sunshine
Let the sun shine in! Although the days are getting longer, sunlight is still limited, so make sure you get outside when you can to soak up that Vitamin D! Seasonal Affective Disorder (SAD) is a real thing that many people experience in colder, northern climates. To maintain healthy blood levels our bodies need at least 10-30 minutes of midday sun or more! Sit by windows, get a light therapy box, and take brisk walks around the block or go out to get your coffee fix if you're at school or work.
2. Nature
Do you want to build a snowman? Get outside even if it's cold, and try outdoor activities like ice skating, snowshoeing, tobogganing, or even just a walk with a friend (this combines tips 1,2,3 & 4!). If you're bundled up warm with adequate winter clothing, then it can even be fun to kick through the snow and admire the dazzling white world before you. Spending time in nature is so beneficial for your mental health and when you tie that in with the other tips on this list, it multiplies!).
3. Exercise
Exercise for better mental health is one of those other things that seems so obvious, but when it comes to doing it, is another matter altogether.  As mentioned, going for a brisk walk outside is a great way to combine a few of these tips together, but working out in a gym or even in the comfort of your own home is also great. There are so many virtual classes online so find one that interests you (salsa, kickboxing, yoga or even High Intensity Interval Training (HIIT), and make a commitment to yourself or to do it online with a friend. There are a lot of free classes out there so it doesn't even have to cost you money (although investing a little cash may keep you more motivated). Break it up into smaller sessions or go hard for an hour and sweat those winter blues away to some great beats!
4. Connection
It's easy to hunker down in the winter (and not to mention the additional challenge of the pandemic) but connecting with people in real life as well as virtually is critical for good mental health. Humans are social creatures and it's been shown that the more connections in our lives, the happier we are. Make plans with a classmate or even have a virtual date with friends and family back home where you watch a movie together online or play a game.
5. Mental Health Apps
Did you know your Keep.meSafe insurance gives you access to year-round mental health support, including crisis support from certified counselors through phone or the Android/IOS App? NCT also hosts periodic mental health and well-being workshops through-out the semester, so stay tuned! There also many other free Apps like Mindshift or Take a Break! that can offer additional online support.
6. Keep Warm & Cozy
Heated blankets, warm tea or hot cocoa, a fireplace screensaver, and a comfy sweater: there are so many ways to keep warm and get cozy! Leave twinkling lights from the holidays up and light a few scented candles to really soak up all the winter feels.
7. Watch Movies Or Read Books Set In Tropical Locals
Give yourself an escape and curl up with a favourite book or movie set in the summer or in a warm and beautiful climate. Let your imagination take you away to paradise! Another tactic might include looking at photos of old trips or daydreaming about your next vacation (which always induces a happy boost!).
8. Acceptance & Gratitude
There's not much we can do about the weather, so accepting it and knowing it will come to an end (eventually) can lessen the stress you may feel. Thinking about and writing down what you're grateful for can also have a positive effect on your mental health. In particular, having the opportunity and the means to study at a post-secondary institution in another country, which, while chilly in the winter, is safe, friendly and offers great health care, is always something to be thankful for! Write down 3 things every day that you're grateful for and start feeling those winter blues melt away!
Combining any of these tips or putting them into rotation will definitely go a long way towards staving off those winter blues! Before you know it, the days will be getting warmer and longer and spring will be on its way. NCT also offers mental health support if you need it through-out the winter months, or any time of year.  
Whether you're a big fan of winter or not, if you're interested in studying at NCT, don't hesitate to contact us to learn more about all the exciting programs we have to offer! Email info@niagaracollegetoronto.ca to find out more.
---