Computer Programming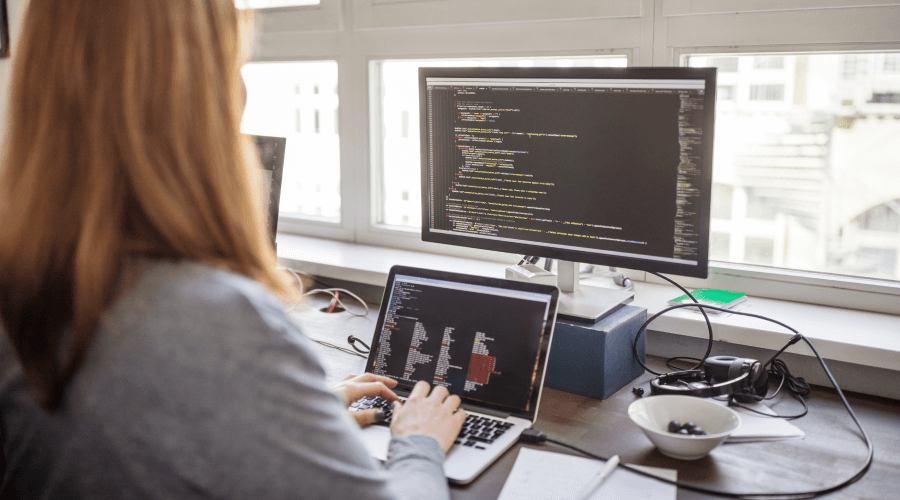 Meaghan Mcisaac | March, 8, 2022
Study computer programming at the heart of Toronto's business and cultural centre and earn an undergraduate diploma that will position you as a sought-after employee for local and international companies around the world!
Consisting of four terms, this two-year Niagara College diploma is now being offered at Niagara College - Toronto and features comprehensive courses taught by esteemed faculty, designed to give Niagara College graduates an edge over the competition. Students will also be eligible to apply for a post-graduation work permit (PGWP)* and gain valuable experience working for a Canadian company.
*Information valid as of January 31, 2022
According to the Government of Canada's job bank site as of December 2021, employment in this field is expected to grow at a higher rate than the national average. It is anticipated that there will be a demand for workers as Canadian firms upgrade their IT infrastructure in order to remain competitive and digitally secure. In addition, technological innovations and continued growth in areas such as artificial intelligence, 3D printing, Blockchain, telecommunications, and the information and culture services industry (such as virtual and augmented reality), will provide plentiful opportunities for graduates.
The city of Toronto has become North America's fastest growing technology hub and is home to many world-renowned companies like Microsoft, Google, Facebook, IBM, Cisco, Twitter and Amazon. Many of these tech giants are drawn to Ontario's capital because of the wide pool of available talent. According to Coldwell Banker Richard Ellis (CBRE), 82,100 tech jobs were added between 2012 and 2017.
Not only are the skills required to thrive in this occupation generally universal, but the country's tech-friendly and welcoming attitude towards international students provides motivated graduates with access to promising employment opportunities in the industry. NCT's downtown Toronto campus puts our students in close contact with companies and businesses who need their in-demand skills, allowing them to take advantage of all the professional and personal benefits Canada's business and cultural hub has to offer.
If you're interested in studying and living in what we consider to be , get in touch with one of our advisors today to find out how you can take your technical skills to the next level at NCT, one of Canada's innovative post-secondary institutions.
Learn more at niagaracollegetoronto.ca

---