Exam Essentials: Everything you need to know about online exams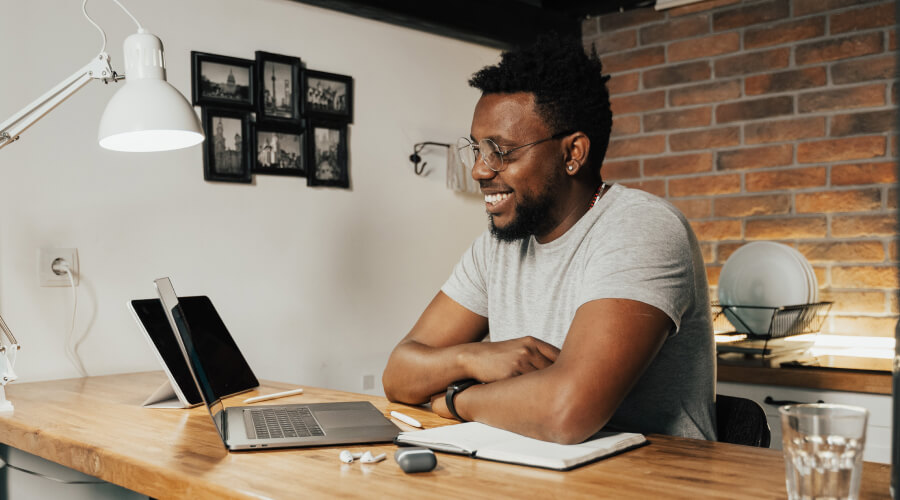 Sweha Hazari | June, 1, 2021
Online exams can provide a wide range of benefits to students and colleges alike. For students, online exams are more straightforward because they can take exams to the comfort of students' homes. All you need is a stable internet connection and a laptop or a desktop computer.
This blog outlines all the exam essentials you need to know on how to take your online exams and includes tips to help you successfully prepare.
How does a general online exam work?
Most online exams work the same way as in-person exams, where they can have similar formats and time limits. However, you have to type out your answers in online exams as opposed to physically writing your responses and you may be are monitored differently.
One of the many ways institutions may conduct an online exam is by the test environment is set up through your institution's learning management system (LMS) integration. You are logged in via an authentication process like a one-time password (OTP) through text or email. Colleges can also require you to download specific online exam software on your computer for your tests.
The online exam process can be monitored in different ways.  Live monitoring involves a real-time exam proctor monitoring you for the entire duration through a webcam. Recorded monitoring consists of reviewing the recorded video from your webcam for any red flags or suspicious events, after the exam.
7 Tips to ace an online exam
Thoroughly understanding the preparation needed for online exams will help you ace your online exam. Find some helpful online exam tips below that let you know what you should do before and during an online test.
Before the exam
Reading test guidelines: Before you take the exam, you should thoroughly read the exam guidelines, which outline how it would be conducted. This will help you learn essential factors such as whether you can leave your computer in the middle of the exam.
Knowing the exam format: Much like conventional exams, online tests can also have different formats – such as essays and multiple choice questions-. In most cases, the structure of the exam is mentioned in the test guidelines. Knowing the structure beforehand can help you plan your time during the exam.
Avoiding last-minute computer problems: You should ensure that your computer and internet connection are in perfect working condition beforehand. Also, make sure you have downloaded the correct exam software well in advance. This can help you avoid last minutes technical issues, which can unnecessarily cause a lot of mental hassle.
Planning out your time: Just like a conventional exam, pacing yourself during an online exam is equally important. Depending on the time limit and the type of questions, you should calculate how much time you should allot for answering each question. This allows you to avoid rushing or missing out on any questions due to lack of time.
Deciding on a suitable test-taking spot: College authorities and proctors ensure a distraction-free atmosphere for traditional exam setups. However, it is your responsibility to do the same when taking the test at your home. Select a relatively quiet and well-lit spot in your home for taking the exam and request your family to leave you alone for the duration of the exam.
During the exam
Keeping an eye on the clock: Much like an in-person test, you should be keeping an eye out for the time left till the exam ends. You can either wear a watch or set alarms at regular intervals to let you know how much time you have.
Contacting the college for technical problems: Sometimes, you might face technical issues in the middle of the exam despite checking them earlier. Remember to stay calm in this situation. You should contact the exam proctor immediately and detail your exact problem. You can also take screenshots of any error messages to help them solve the issue faster.
Online exams are an integral part of online courses across the world. With the global education sector moving towards a digital realm, it can be a good idea to invest in an online program to familiarize yourself with this exam format.
If you are looking to study in an online program in Toronto, you can explore the industry-oriented programs offered by the Niagara College - Toronto (NCT). Delivered by the Toronto School of Management, NCT programs help with your eligibility in applying for a Post-Graduation Work Permit (PGWP) in Canada.
Click here to learn more about the programs at NCT.
---