How to stand out at a virtual internship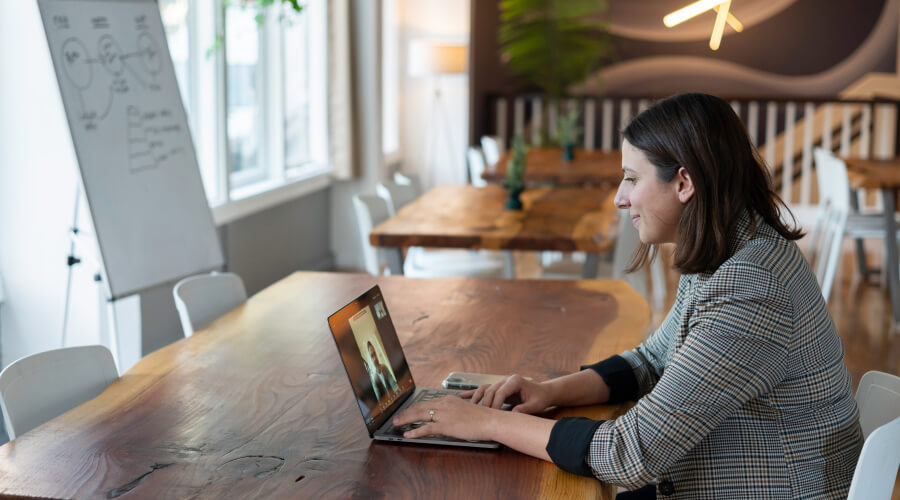 Internships are a fabulous way for students to learn and a great tactic to help grow their career. For many, this is their first peek into the business world, which helps them understand how things function on a practical day-to-day basis.
While physically attending an internship is not possible during the pandemic, students are focusing on online or virtual internships. Not only is this the most practical way to earn some work experience but will also give you an edge over your peers, while testing out how work-from-home environments could look and feel like.
If you are considering entering the workforce soon then you have to build up your resume. The digital age provides many new opportunities through which you can amp your skills and even get the desired job.
An online internship can be your ticket towards building a great professional career. To land an internship of your dreams, and to make the most of it, you have to put in the hard work that's needed to succeed. You can easily stand out at your virtual internship by adding value to yourself. If you are looking for pointers on how to achieve that then read on.
What is a virtual internship?
Virtual internships are not a result of the pandemic, and have actually been around for much longer. Multinational software firm SAP not only supports remote working but has also been offering global internship for a while. Students from around the world have benefited from SAP's virtual internship programs.
Getting global exposure from the comfort of your home has been made easy by programs like that. The only requirement apart from making it through the interview is access to a computer and a strong internet network. With these tools, you are ready to work for any company no matter how far the distance.
Tips to stand out during your virtual internship
Being a virtual intern gives you the benefit to apply for organisations that are otherwise physically inaccessible to you – this increases your pool of options too. Though to stand out in your internship, you have to start from the basics.
Despite the distance, you have to absorb all the knowledge you applied to demonstrate in the first place. Being in a different environment and not getting the "knack" for corporate culture and its working can be a deterrent here.
But don't let that discourage you. Instead, focus on getting the best from this opportunity - here are a few tips on how to do this:
Be specific about skills you wish to gain
Making a positive impact starts with your C.V., so you need to put some effort in it. While applying for internships, go for something that aligns with your skill development. Specify the skills that you wish to gain, your objectives from the internship and how you can be of value to the company. This shows you have clarity of mind and professional goals, both these qualities will certainly set you part from others.
Be a part of the company
Don't limit your internship to just showing up online, checking the necessary boxes and signing out. Get a feel of the environment, connect with people and take initiative to know more. This can be a great learning process which will also teach you to network and build links at an early stage. For all you know, someone you met during your internship is your hiring manager at another job later on.
Keep track of assignments
One of the many benefits of internship is that it teaches you expertise like time management which are crucial in the business world. Being able to work efficiently and meet deadlines is an asset in the professional world and you can start your preparation during virtual internship. Keep a daily schedule or calendar to ensure you keep track of all the important dates and assignment. This is an excellent way to ace your internship and stand out as a sincere intern.
Take guidance from superiors
As an intern you are not expected to know everything, and will be guided through tasks. It's still necessary that you reach out and ask for guidance whenever required. This shows that you are genuinely interested in the work and are making all efforts to do your best. Working virtually often means that students can slack off or become hesitant about approaching others. Just because you are not on-site, does not mean that you don't ask questions. Rather, your curiosity and diligence will create a positive impact on your supervisor.
Before you look into a good online internship, you must first enroll in a program that is suited to your professional needs. Niagara College - Toronto offers a range of excellent programs in Business, Hospitality and Tourism, Human Resources and International Business Management. 
The college has a student-focused approach with small class sizes where each student is able to focus on their individual tasks with remote support from the faculty. The highly experienced and dedicated faculty ensures that students are trained skillfully to become a part of the modern workforce. On top of that, studying in Canada's largest multicultural city gives students access to a great culture, learning environment and job opportunities.
Also, after the successful completion of a Graduate Certificate program at Niagara College - Toronto, students become eligible to apply for the Post-Graduation Work Permit Program (PGWPP) in Canada, which allows them to take up work opportunities in Canada.
---
Recent Blogs