Moose Hide Campaign: A Movement Toward Healing and Reconciliation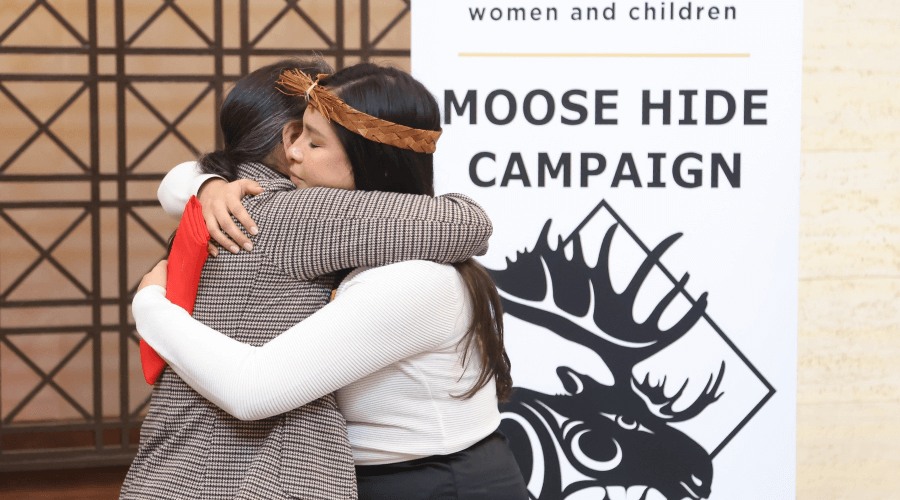 Justin Mahabir | May, 10, 2023
Niagara College – Toronto (NCT) stands in solidarity with the Moose Hide Campaign and supports those striving to honour, respect and protect women and children worldwide. In this blog, we will explore the Moose Hide Campaign, why we support the campaign, and how you can get involved.
The Context
The ongoing violence against women and the deep wounds caused by Canada's residential schools are critical issues facing Indigenous communities across Canada. The challenge of addressing these systemic issues requires a complete cultural shift and a sincere attempt to atone for the past.
It was within this context that the Moose Hide Campaign, a grassroots movement aimed at ending violence against Indigenous women and children, was born.
The Inspiration
The campaign was founded by Paul Lacerte and his daughter, Raven Lacerte, who are Carrier First Nations members in northern British Columbia (BC). The pair started the campaign in 2011, following a moment of inspiration while on a moose hunt along the infamous Highway of Tears (Highway 16) in northern BC.
Paul and Raven were inspired to see Indigenous and non-Indigenous men taking a stand to end violence against women and children. While cleaning a moose they harvested on their hunt, an Indigenous practice that Canada's residential schools attempted to eliminate, the pair decided to use the hide as a symbol to promote their cause.
The Moose Hide Pins
Pinning small squares of tanned moose hide to one's clothing aims to raise awareness of the violence that particularly Indigenous women and children in Canada face. By displaying a moose hide pin, individuals can show their support for the cause and their commitment to respecting and protecting women, while also supporting efforts for truth and reconciliation and helping reverse the harm done by residential schools.
The Movement
The Moose Hide Campaign has grown significantly since its establishment and now stands in solidarity with individuals, public and private organizations, and communities across Canada. The campaign's main event is the Moose Hide Campaign Day, which takes place annually on May 11, in Victoria, BC. The Moose Hide Gathering is a day-long event rooted in Indigenous ceremony, which includes workshops, performances, and a march to the BC Legislature.
Get Involved
Getting involved in the Moose Hide Campaign is easy, and there are many ways to contribute.
The Moose Hide Campaign is an important initiative that addresses the critical issue of gender-based violence that Indigenous communities in Canada currently face and supports the ongoing efforts towards truth and reconciliation for the violence inflicted upon Indigenous children. By getting involved, you can help raise awareness and promote healing.
For more information about the Moose Hide Campaign, please send us an email at enquiry@niagaracollegetoronto.ca or visit our Events page for upcoming Moose Hide Campaign events at NCT.

---