Six ways to create your ideal study space at home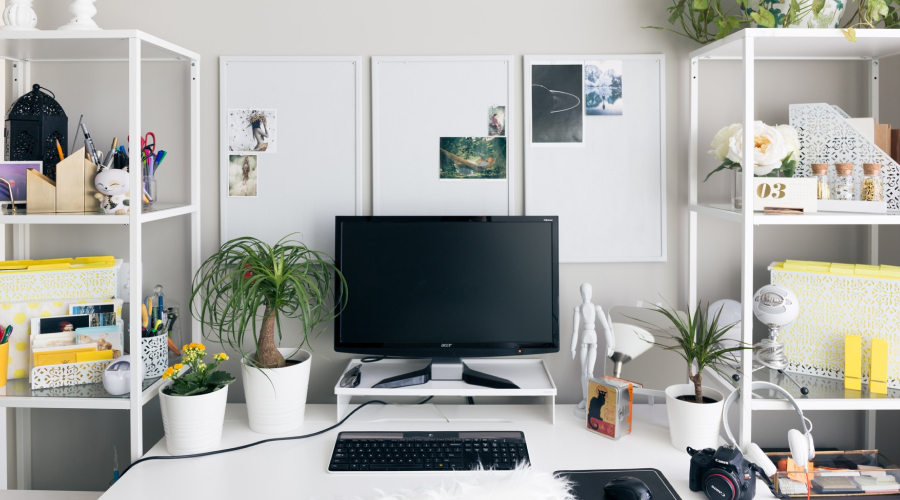 Sweha Hazari | May, 4, 2021
In light of the ongoing pandemic, most colleges and universities have transitioned to online learning. If you're accustomed to learning in a classroom environment, adjusting to learning from home can take some time.
A designated study space that is well-lit and ventilated can help you make the most of online learning. Research suggests a well-designed workspace has a strong correlation with the quality of your study sessions.
Here are a few tips on study room ideas so you can create the right study space for you.
1. Pick a specific place and stick to it
Pick a specific corner of your home that is less likely to be disrupted by outside noise, is well-ventilated, and has lots of light. Resist the urge to move to a different spot of your home or keep switching places. This will only hamper your study routine.
2. Select furniture that meets your ergonomic needs
Online learning can require sitting in front of a computer or a laptop for long hours. Ensure that your chair and table are ergonomically designed for that purpose. Having the wrong fit for a chair or study table can ruin your posture and give you backaches or neck pain.
Choose a chair that lets you recline a bit and has armrests to support your hands while writing or typing. Your desk should reach up to your ribcage when you sit so that you don't have to hunch your shoulders.
3. Ensure the place has adequate lighting
A dark or poorly lit space can unnecessarily strain your eyes and make you feel tired. Therefore, make sure your study space receives lots of light, natural or otherwise.
Using a desk lamp in addition to the primary source of lighting can illuminate your immediate workspace and help you avoid eye-strain.
4. Stock up on all the office supplies you need
Stocking up on office supplies in advance and regularly replenishing them can help you have productive study sessions free of distractions. To avoid that, have a designated drawer or area in your workspace to store some extra office supplies.
It also makes sense to have a bookshelf near your study space containing all your books and resources. Make sure that your computer or laptop is sufficiently charged before your session starts and the charger is close by you in case you need it.
5. Keep your study space organized
Study room organization is absolutely essential for effective online study. A tidy and organized workspace can promote the release of endorphins and help you study productively. You can keep your workspace uncluttered by having a logical space for everything you need for your study sessions.
You should regularly clean out any unnecessary material like old notebooks or empty pens that are just occupying space. Wipe your desk and chair to keep out dust and waste paper. You can also keep a small waste bin at hand so that you can dispose of rough sheets instead of letting them clutter your workspace.
6. Choose décor that inspires you to work hard
Designing the best place to study for yourself can be a very personal experience. You know precisely what suits your study habits and what motivates and drives you. Try and personalize your space based on your interests and passions.
Picking out posters that interest you and hanging them over your workspace can be a great way to personalize it. You can also create an ideal home study environment by decorating your workspace with low-maintenance house plants.
Some other online study tips include having a daily planner or calendar handy and using your workspace only for your study sessions. You must also keep distractions like your smartphone or other entertainment devices away from your study space at home.
If you are looking for interesting and in-demand programs, Niagara College – Toronto has a wide range of programs that are currently being delivered online that may interest you. These online programs are taught by expert instructors and are carefully designed to be industry-oriented.
You can explore a wide range of programs from Hospitality and Tourism Management to Business-General, enhancing your career prospects.
Click here to learn more about Niagara College - Toronto's programs
---