Spring Activities to do In Toronto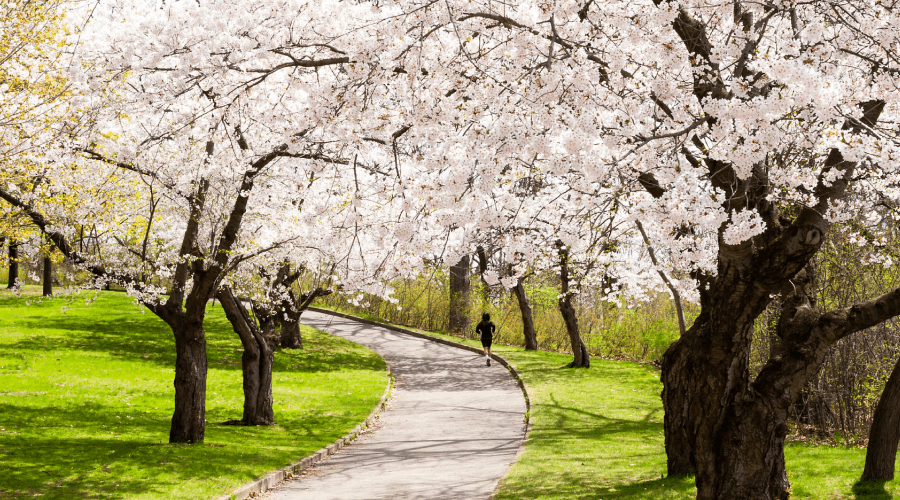 Meaghan Mcisaac | May, 15, 2023
Spring in Toronto
After a long, cold winter season, the sunshine and warmer temperatures have finally arrived in Toronto! The grey skies are turning blue and flowers have started to bloom. It's spring at last! And that means the city comes alive with all kinds of fun and exciting activities to enjoy the outdoors. Whether you're an adventure seeker, a dreamer, a nature fan or a foodie, there's something for everyone to do in the city. Put away those winter boots and lace up some sneakers to check out our top five spring activities to do in Toronto!
Visit the Sakura Cherry Blossoms in High Park
High Park is Toronto's largest public park, boasting 339 acres of hiking trails, sports facilities and beautiful lakefront – and is also home to the city's largest grove of spectacular Sakura trees that bloom in April or May each year. A gift from the citizens of Tokyo, Japan to the citizens of Toronto for their support of Japanese-Canadian refugees after the Second World War, these beautiful trees delight Torontonians with their spectacular blooms at springtime each year. The rows of beautiful cherry blossoms attract thousands of visitors to the park and provide the perfect setting for a romantic walk, a lovely picnic or a stunning selfie. Most of the Sakura trees can be found around Hillside Gardens but you can also find some trees at Duck Pond. Remember – these blooms only last a week or two, so be sure to keep watch on the cherry blossom's progress!
Kensington Market
Take a stroll through pedestrian-friendly Kensington Market, a must do collection of Toronto's trendiest and vehicle-free streets just west of downtown Toronto. Kensington Market is a diverse and historic neighborhood and easily accessed by public transit. Hop on one of Toronto's iconic streetcars (there are four that provide direct access to the market) and spend the day exploring the many treasures the market has to offer. A shopper's paradise, you can start by grabbing a coffee from one of the adorable cafes before you search the racks for a one-of-a-kind piece at any of the many vintage boutiques. Don't forget to stop in at one of the specialty grocers and bakeries to pick up something special to take home for dinner. Or, if you don't feel like cooking, simply tuck in at one of the nearby restaurants for fine or casual dining. Kensington Market is also a hub of amazing artists – admire the incredible murals and sculptures that line the streets or stop and appreciate a street performance or two.
Tommy Thompson Park
Get in touch with your wild side and take in what nature has to offer at Toronto's own wildlife haven in Tommy Thompson Park. Located on 5 km of man-made peninsula on Lake Ontario, Tommy Thompson Park is Toronto's largest greenspace and wildlife habitat with great trails for hiking, rollerblading, cycling and more. Bring some binoculars and spend the afternoon birdwatching all the many varieties of local species that live there – there are over 300 different species that call the park home. The park also hosts free festivals, including the Spring Bird Festival in May to promote bird conservation efforts and celebrate the amazing migrating birds that travel to Toronto every year.
Jays Game (start of the season)
The Toronto Blue Jays kick off their season in April, so grab some tickets and head down to the Roger's Centre to enjoy a beer and a hot dog while cheering on the Jays! It's always best when the massive dome of the Rogers Centre is open, but no need to worry about your game getting rained out – the dome closes!
Evergreen Brick Works Saturday Farmers Market
With spring comes all kinds of the delicious fresh produce we've been waiting for! Evergreen Brick Works hosts Saturday afternoon Farmer's market. The largest farmer's market in the city, you can find fresh, seasonal produce, local prepared foods, and a variety of artisan crafts and specialty food products. Spend the day exploring quality food from Ontario farmers and pick out something new to try with dinner! Or, if you want to add some green to your life, check out the Garden Market for a wide selection of Ontario native flowers, plants and trees – take one home today! You can get to Evergreen Brick Works by public transit, or try their free shuttle bus near Broadview subway station.
There are so many outdoor activities to enjoy in Toronto now that Spring has finally arrived. With our top 5 activities to do in Toronto, you'll have something to keep you busy well into the summer months. Whether you want to take in a ballgame or relax beneath the cherry blossoms, you'll always have a reason to get outside and enjoy a new adventure in the fresh air. For more information on springtime in the city, send us an email at info@niagaracollegetoronto.ca or visit our website!
FAQs
What's the best way to get around the city?
Toronto Public Transit is a great choice to access any of these activities. Check out their website for route options.
When is the best time to see the cherry blossoms at High Park?
Between April and May.
How to dress for spring activities in Toronto?
Temperatures in Toronto in springtime can fluctuate. Its best to have a spring jacket, rain boots and long sleeves to make sure you are ready for whatever the weather has in store.

---