Standing out as a Human Resources professional through critical management skills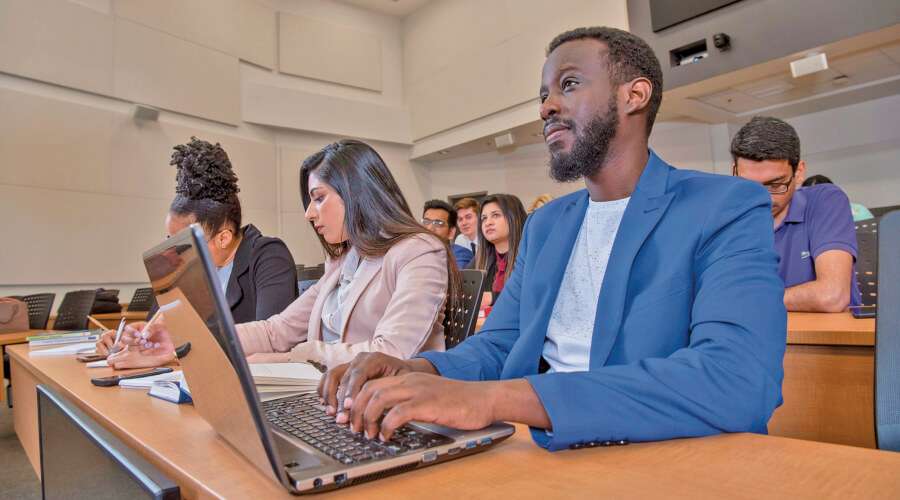 From recruitment to workplace safety, a career in Human Resources is vital for companies in any sector. A versatile profession, Human Resources (HR) cuts across a wide range of businesses. The most successful HR professionals strike a balance between strategy and people, enhancing workplace productivity by optimizing core operations.  
Canadian career analysts continue to predict a demand in the HR job market, and with the pandemic, professionals will need to calibrate quickly to new ways of working. In HR management programs, transferable skills help graduates advance in the field by preparing students for a variety of career paths and the ability to adapt to dynamic shifts across industries.
Importance of HR management
Niagara College's Human Resources Management (HRM) program enhances and gives students the confidence to demonstrate critical skills required to move up and into leadership roles. Typically designed to complement prior education, students in HRM programs graduate with specialized knowledge in labour law, occupational health and safety, labour relations and compensation and recruitment, preparing them to work in all aspects of the field.
Canada is transitioning from a resource-based to a knowledge-based economy where subject expertise is valued. Here, bolstering further education becomes essential. Professionals often pursue graduate certificate programs that offer vast knowledge in a relatively short timeframe, making it easier to enter the job market with skills that are in demand.
HRM qualifications build on a number of transferable skills such as administration, reporting, multitasking, link-building, presentation and more. From human resource officers or office managers to business advisors, the program cements the qualities and skills required to quickly adapt into other roles.
Benefits of HR management programs
Further education in HRM can significantly enhance your career prospects. It will help you develop professionally by equipping you with effective managerial tools while building your interpersonal skills. Other advantages of the program include:
Building trust
When recruiters assess a candidate's resume, they consider how qualified that person is for the role. Further education in the field validates a candidate for a human resources career, indicating that they have required training and prerequisite skills for the job. Employers have more confidence in the abilities of such individuals and trust them to carry out their role effectively.
Making you a valuable asset
Organizations are keen to get the best talent on board to gain a competitive advantage in the market. HRM professionals hold a distinguished place and are set apart from the crowd due to their credentials. Companies hire these professionals as they have the necessary HRM skills to perform their duties efficiently and are a profitable asset to the business.
Getting you better pay
An HRM qualification makes you viable for well-ranked leadership roles and, therefore, gets you better pay. As you become more skilled with industry trends and performing job operations, your value and earning potential increases. Employers are also willing to pay more lucrative salaries to deserving candidates who will help the company meet its objectives.
Ensuring job satisfaction
Throughout the program, you will acquire critical skills and gain exposure to current industry trends. HRM programs also develop your ability to innovate with your newly acquired expertise in a practical way. The credibility that you build based on your knowledge brings you a tremendous amount of respect from your employers and peers. One of the benefits of working in HR is that your role is central to company operations and impacts employees at all levels.
Professionals who are looking to make substantial career advancements should look into pursuing an HRM qualification. This program will provide you with key skills, making you more proficient for leadership roles in a variety of fields.
Niagara College - Toronto offers high-quality educational programs, including the Human Resource Management Graduate Certificate. During the one-year program tenure, you will build your knowledge in the field of HR and also acquire new skills which can be applied to a variety of industries.
Click on the link to learn more about the program!
---