Tips for a Successful Student Journey – Erika Dela Cruz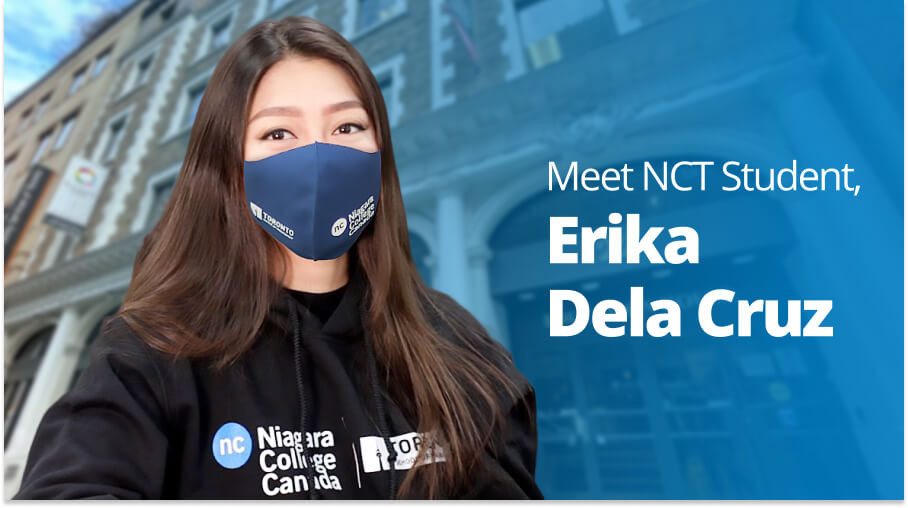 Erika Dela Cruz | January, 17, 2022
Studying abroad is one of the biggest decisions I've made in my life. It's been a challenging but fulfilling journey, to say the least. Although I wondered how my life would change by travelling to a country far from home, my desire to learn was strong enough to encourage me to pursue my scholastic dreams and study abroad.
Canada is a land of endless opportunities, yet it's common for an adjustment period when starting life in another country. Here are some personal tips on how to succeed as an international student at Niagara College – Toronto!
1. Practice Time Management
My classes in the Hospitality and Tourism Graduate Certificate program are usually from 9am to 4pm, three days a week. We are currently in a Hyflex learning model, which means that some days we attend classes online and other days we attend class in-person. When I attend class online, I wake up an hour before to prepare. If I'm supposed to attend in-person at our NCT campus, I wake up about two hours before to give myself ample time to get ready for school, eat breakfast, and go over my lecture notes, as well as to allow time for my commute. On days I don't have class, I work on my assignments or at my part-time job, which is twenty hours a week in addition to my classes. Being in a graduate certificate program can be intense but staying organized and making good use of my time helps me to maintain balance. TIME MANAGEMENT is the key!
2. Take Advantage of Student Discounts for Transportation
I like touring around Toronto and its neighboring cities. Toronto has one of the best subway systems in the world, thank-you, Toronto Transit Commission (TTC)! As an international student, I prefer to use the unlimited monthly pass, the Presto Card. The fee for the unlimited monthly pass is currently $156 CAD for adults and $128.15 CAD for students/senior/youths. Of course, I always take advantage of the discounted student fare! The unlimited pass works well for me, as I use TTC buses and the subway all the time.
3. Build Connections at School
I like to socialize with other students from different parts of the world. What could be more exciting than studying in a multicultural and diverse environment? Not only do we learn the lessons being taught in class, but we also learn about different cultures from many countries. Be friendly, make connections and treat each other as a family to make the most your studies. Believe me, you'll be motivated to go to school when your classmates are also friends that you are eager to learn with. I also found my part-time job with the help of one of my schoolmates!
4. Save Money
As international students, we have to be careful when it comes to spending our money. There are many places that offer deals for students. Check out Dollarama and other dollar stores for inexpensive household items. You may just find what you need from the products they offer. For your grocery shopping there are tons of options from No Frills, Freshco, Metro, and Loblaws. You can ask if there are any student discounts or promos on specific days of the week, you'd be surprised at how many places offer discounts for students!
In addition to the tips above, here are some more ways to make your student life easier:
Acquire a Canadian mobile plan and phone number and stay connected!
Apply for your Ontario Photo ID Card. (This is a valid ID so you don't need to bring your passport with you everywhere you go).
Get your post-secondary TTC ID to make use of your student monthly pass discount.
Open a student bank account here in Toronto and you'll be motivated to save.
If you ever have any questions, please reach out to student services for support at any time! I hope you find this blog helpful and useful and best of luck on your student journey!
---