Toronto is an Outdoor Winter Wonderland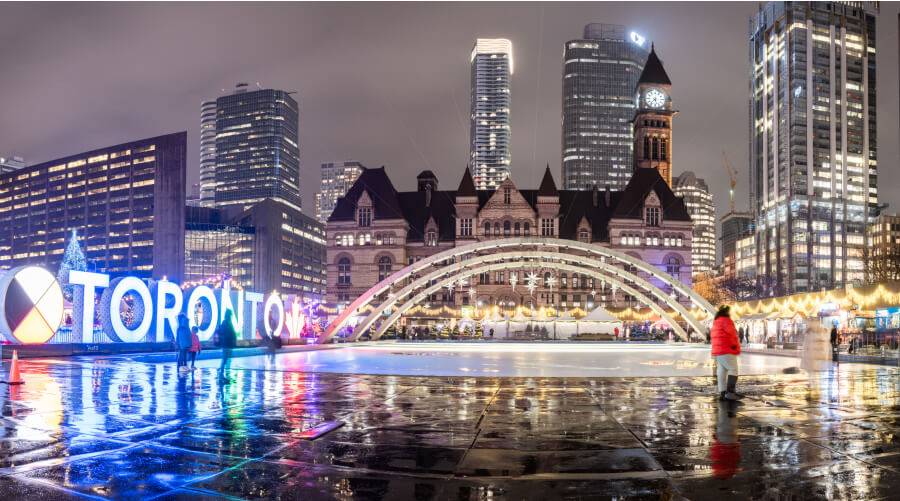 Alisha Sevigny | December, 6, 2021
There are so many things to do, see and eat around Toronto during the holiday season. We've rounded up some of the city's most popular outdoor seasonal events. Make sure you dress appropriately so you can spend your time enjoying these fun activities. Don't forget to always check if the event is still on before heading out and remember to observe social distancing measures. Get outside and explore everything the city has to offer!
*Masks may be required.
The Village of Yorkville Park will be lit with a variety of unique displays, from our twinkling light tunnel, to our oversize snowflakes, gorgeous Christmas tree, and more. With takeout available and numerous coffee shops to choose some, our Holiday Magic lights display make for a perfect, safe night out. And it's free!
2. Skating Under the Stars
Skaters have a few options including the following:
Nathan Phillips Square Ice Skating
In the winter the water fountain in front of Toronto City Hall turns into an outdoor Ice Rink. Take in the downtown sites while pleasure skating. Reservations are required. A small number of spots will be available for participants who are not able to make a reservation online. Skate rentals additional cost.
The Bentway Skate Trail
This outdoor trail turns into a uniquely urban winter wonderland  with its 220-metre skate trail. The trail will open on December 18 with a fixed capacity of 25 people. The Bentway was created to bring residents and visitors together in a public space and to connect outdoors year-round. Pre-registration is required. Bring your own skates. There are no skate rentals available.
DJ Skate Nights at Harbourfront
Sharpen your skates and skills as Toronto's best outdoor winter party returns. Top local and international DJ's spin the soundtrack to a magical Saturday night as you skate under the stars.
Price: $29.99 per daily ticket
When: November 13 to December 31, 2021
Why You Need To Go: WinterFest is returning to Canada's Wonderland for the first time since it opened in 2019. The amusement park will be transformed into a twinkling paradise with glowing trails, festive treats, skating and more.
4. Snow Magic
Price: $45-$65 per vehicle
When: November 12, 2021 to January 16, 2022
Address: Ontario Place's East Island
Why You Need To Go: Ontario Place is getting a glittering winter drive-thru event, and you can cruise past fantastical creatures, crystal caves and more.(Car needed!)
Price: $19.99 per adult
When: November 25 to December 26, 2021
Address: Bandshell Park, Exhibition Grounds, 210 Princes' Blvd.
Why You Need To Go: Polar is returning for a second year, and this time it's a walk-thru event with a festive market and shimmering ice tunnel.
Price: To be announced
When: Plans to run from November 18 to December 31, 2021
Address: Distillery District, Toronto, ON
Why You Need To Go: The Toronto Christmas Market plans to return to Toronto this year, with final details still waiting to be confirmed.
Price: Free (You just have to get to Niagara Falls!)
When: November 13, 2021 to February 21, 2022
Address: Niagara Falls, ON
Why You Need To Go: Niagara's dazzling lights festival is almost doubling in length this year, and you can see millions of lights and shimmering displays.
This is just a small sampling of outdoor activities this December. If there's something you've been thinking about trying give it a google and see what comes up! Whatever you choose to do, whether it's solo or with friends, get outside and enjoy the experience of spending the holidays in another country! If you're thinking about coming to Canada, don't hesitate to contact our team at info@niagaracollegetoronto.ca or check out our website!
Wishing You a Happy December!
Your NCT Family
---