Where to Experience Canadian Fall Colours in Their Full Glory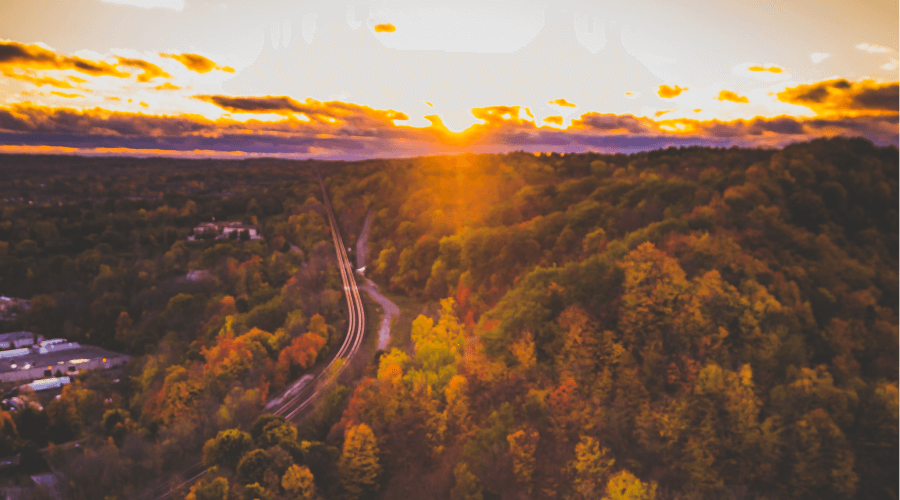 Alisha Sevigny | October, 25, 2021
It's that time of year again! Spiced lattes, cider, and pumpkin-flavoured everything. Seasonal produce is abundant, fun outdoor activities like hayrides and fall fairs, and everything that's cozy. While fall in Canada brings us many treats, the real experience is all about getting out in nature.
Vibrant, breathtaking colours can be found literally anywhere you see trees — but there's nothing like looking over sweeping landscapes of orange, red, yellow, green, and an ever-changing blend of striking colours only painters and Mother Nature can bring to life.
Below are a few places outside of the Greater Toronto Area (GTA) that are under 4 hours by car, where Canadians flock to check out the beauty of autumn — you should get out there and explore before all the leaves literally fall. There is one basic rule in Ontario Parks: Have respect and consideration for your fellow visitors and the park environment. 
Nestled west of the GTA in the Spencer Gorge Conservation Area, the Dundas Trail leads to Southern Ontario's insta-famous Dundas Peak, one of the best places to experience the beauty of autumn.
Close to the Hamilton's most popular waterfalls on the Dundas Trail is Webster Falls, where visitors can enjoy amazing views of nature including a majestic view of natural water works. Webster Falls and Tews Falls are part of the same hiking area, and the latter is Hamilton's tallest waterfall at 41 metres. 
Costs: $10 for parking
Things to know:
Arrive early!
This is a dog-friendly park
Picnics are also welcome!
Do not go to the edge of the cliffs, there are no guards and erosion is very common — many people have accidentally fallen
Be responsible and do not litter
A household favourite in Ontario, Algonquin Park is arguably the best place to see fall colours. Established in 1893, this is the oldest provincial park in Canada and with 7,653 square kilometers of Canadian nature, it is also the largest park that is often considered the point of separation between Northern and Southern Ontario. With over 2,400 lakes and 1,200 km's of streams, most of Algonquin park can be one of the most riveting nature experiences accessible only by foot or canoe.
The topography of Algonquin is lush, and the cooler temperature (it's north of Toronto) propels the flora and trees into fall foliage, with colours so intense and vibrant that it looks like a painting. Whether you're an experienced hiker or a novice, Algonquin is a must-see for visitors and Canadians alike.
Costs: $12 per person for backcountry camping, $12-21 for parking
Things to know:
This park is huge, so planning ahead is definitely required
Dog-friendly but keep them leashed
Driving to a campsite or renting a cabin in the woods are options if a day trip isn't
There are lush, inland lakes you don't want to miss — check out routes beforehand
Do not litter!
There are few ways to appreciate fall than doing the super-Canadian activity of canoeing down a river or lake. Kawartha Highlands Provincial Park is a new addition to Ontario, making it the largest provincial park south of Algonquin.
Accessible without the need to camp, visitors can admire sweeping landscapes of maple trees mixed with pine trees and other members of the botanical world that create a stunning canopy you'll never forget.
Costs: $12.43 per person for backcountry camping, $12-21 for parking
Things to know:
There's a guided tour
Burleigh Falls Inn is close by if staying overnight
Pet-friendly trails
Viamede Resort on Stoney Lake is a great place to stay but more luxurious
There's places to rent gear for canoeing and water sports
Do not litter!
Muskoka is famous in Ontario as the premier cottage country destination, with over 1,600 lakes and three main bodies of water known as Lake Rosseau, Lake Joseph, and Lake Muskoka. Home to wealthier Canadians, massive lakes are studded with mansion-like cottages and boathouses. 
Accessible to the public, Muskoka offers one of the best places to view fall colours in Ontario with sweeping views of the boreal forests.
As Muskoka is huge and known for its fall views, there is even a fall colour guide that allows tourists to discover the variety of fall colours in the various towns, forests and lakes. Options are endless — whether it's Georgian Bay Island National Park with a mixed canopy of trees, or Lion's Lookout in Huntsville, or Huckleberry Rock in Lake Muskoka itself.
Costs: None to explore nature, but probably expensive if you're staying over — options include JW Marriot, Deerhurst Resort or Cleveland House resort and Airbnb options.
Things to know:
This is the destination for Canada's rich and famous, and a luxurious fall experience
Renting a cottage is recommended
Boat cruises and guided hikes are available
There's local nightlife
Do not litter!
A rapidly growing hotspot for outdoor adventures and agro-tourism, Long Point has been designated a biosphere reserve by United Nations Educational, Scientific and Cultural Organization (UNESCO) in 1986 because of its natural, unique composition of both woodlands and wetlands. Lush views of the Canadian Shield provide visitors an experience the locals gush over annually. It's so beautiful that Long Point Eco Adventures established itself as a new eco-resort full of opportunities to go glamping (glamorous camping, which essentially means they provide a hotel-like camp set-up) located in Norfolk County, South Western Ontario.
The resort itself is one of the best places to stay on Lake Erie with incredible views of the local biosphere, but the area is sprawling with things to do — an abundance of forests to hike, farms where visitors can pick fresh produce, or get that Instagram shot in pumpkin patches with a cup of fresh cider to really get into the Canadian fall spirit.
Costs: No hidden costs to explore local nature, there are fees if you choose to stay at the resort
Things to know:
There's a beach!
Pet friendly trails (though maybe not on the beach)
Norfolk is home to some of the most unique restaurants, wineries, and breweries
Do not litter!
---