Winter in Toronto: Everything you need to stay warm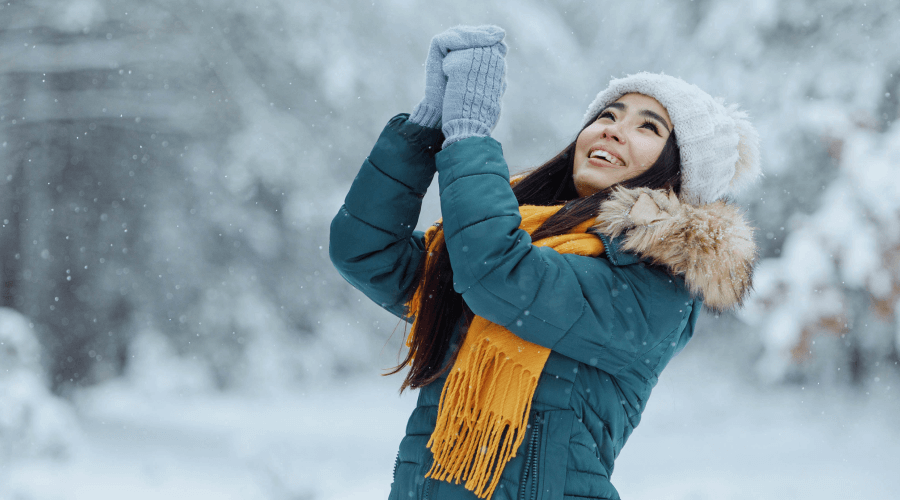 Meaghan Mcisaac | November, 14, 2022
Winter in Canada is a long season, lasting all the way from December through to April – the days get shorter and darker and temperatures can dip as low as -20 Celsius, and even sometimes -30! When winter begins to creep into the city, Torontonians know how to prepare. If this is your first winter in Toronto, we have got you covered with some items to help you stay toasty and warm this winter!
1. Weather App
First, having a weather app on your phone is one of the best ways to know how to prepare for any given winter day in Toronto. A weather app can alert you not just to the temperature, but to snowfall and travel issues.
The Weather Network is a great app for local and province-wide weather reports. And the news site CP24 covers all the latest Toronto and Greater Toronto Area (GTA) news, including the weather, school closures and traffic updates. When the snow starts to fall, it is great to have these handy tools right there on your phone so that you can prepare for any given day.
2. Warm Clothing
Temperatures in Toronto can drop as low as -30 C, and with temperatures like that, it is important to know how to dress so that you can stay warm while you move from home to class to groceries or visiting friends. A good thick coat is vital – Torontonians often go for something thick and sporty. You cannot go wrong with a good snowboarding or ski jacket, or a long jacket to help keep your legs warm. For some great options, check out Mountain Equipment Co-op at 300 Queen Street. Whatever jacket you choose, you will want to pair it with a good hat or "toque" – something knitted that covers your ears. Do not forget a great pair of gloves or mitts and a nice thick scarf. If you really want to stay warm and indulge in fun outdoor snow activities, having a good pair of snow pants is a great addition to any winter wardrobe.
3. Winter Boots
Speaking of snow, it is not uncommon to see a few inches of snow on the ground in Toronto– if not a couple feet! So a good pair of winter boots are exactly what you will need to walk through the snowbanks. It is not just snow you will want to look out for – icy sidewalks get very slippery, so having boots with good grip is crucial to staying safe. Mountain Equipment Co-op is an ideal stop for boots too!
4. Moisture
With the outdoor temperatures so cold, indoor heating keeps things nice and warm…and also dry. Protect your skin by investing in a good moisturizer. A quality humidifier is also a great way to help combat the winter dryness. Shoppers Drug Mart is Canada's number one provider of pharmacy products and has lots of different types of moisturizer for your thirsty skin, as well as different kinds of humidifiers. With multiple convenient locations across the Greater Toronto Area (GTA), be sure to check out their selection of moisturizers and humidifiers at a location near you.
5. Other Cozy items
When the sun goes down and the night gets colder, snuggle up with the perfect set of cozy comfort items. Thick socks from Roots, a warm blanket from The Bay, long sleeve pajamas from Old Navy, and a warm mug of tea or hot chocolate with a good book Chapters are the perfect things for a cozy winter night in.
Winter in Toronto is long, but also fun, with lots of snow activities outdoors and warm cozy evenings inside with friends. Having these items in your closet will be help you stay warm and comfortable all season long.

---