Fall 2022 Program Delivery for Niagara College – Toronto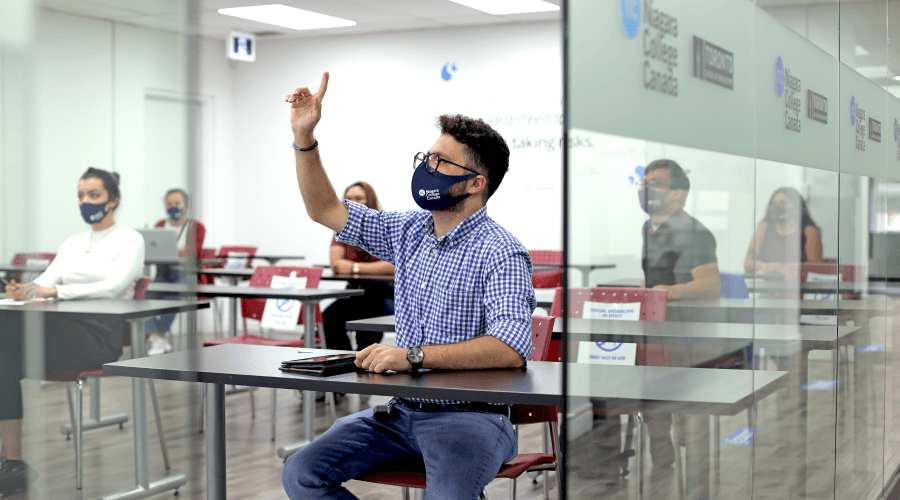 June 3, 2022
Niagara College – Toronto (NCT) is continuing to increase its in-person learning for all programs this Fall 2022.
Each program will have an on-campus component in addition to online courses to provide students with flexibility and an outstanding learning experience. Therefore, all NCT students are required to be in Canada with a valid study permit to attend mandatory in-person classes.
Here is what you need to know about the Fall 2022 term:
Scheduled in-person classes will not have an online option, therefore, all students are required to be in Canada.
Students will be able to see which courses will be delivered on campus or through remote learning by accessing their online timetable when it becomes available.
Please refer to the Important Dates
Additional information will also be provided during NCT's New Student Orientation. Orientation is a required activity to attend as part of your transition to Niagara College - Toronto
Certain major evaluations such as presentations and final exams will be conducted in person, meaning students must be on-campus for these evaluations.
Students will be provided details about on-campus evaluations at the start of each term by their instructors and given ample notice.
NCT will continue to follow public health directives and monitor the changing public health situation and COVID-19 trends to ensure that a safe learning environment and workplace are provided. For the latest updates, please refer to the Covid-19 and Travel Updates page on our website.  
Questions?
We would be happy to help!
Please do not hesitate to:
Call our Main Campus Line: + 1 647-799-4830. Monday to Friday between 8 am and 5 pm Eastern Standard Time (EST).
If you are calling outside of the listed hours, please leave a voicemail and use the following directions to ensure your message is left with the right team:
Please press 1 for Recruitment
Please press 2 for Student Services
Please press 3 for General Inquiries
NCT looks forward to welcoming our students this fall!
---