NCT offers Students Free Access to Writing Tool, Grammarly!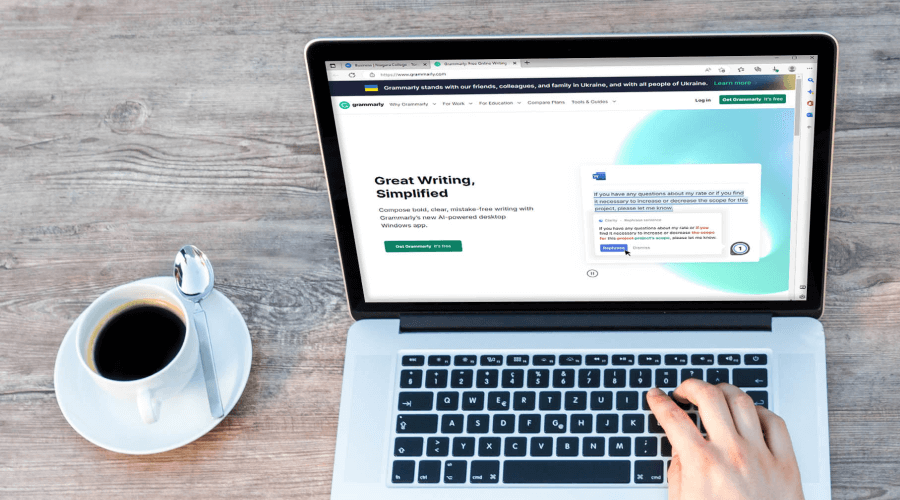 January 30, 2023
Grammarly
Niagara College – Toronto (NCT) is delighted to announce that students can now receive unlimited access to Grammarly.
Grammarly is a simple-to-use, cloud-based writing service that can take your work to the next level by ensuring that your writing is accurate and concise. More specifically, Grammarly can evaluate your writing sample and recommend grammar, spelling, and punctuation corrections. But what makes Grammarly so exciting is that it can also offer tips for how to improve readability, clarity, fluency, formality, and reader engagement. Over time, this can improve your understanding of formal English writing conventions, making you a better writer. Grammarly can also provide an additional layer of review on whether your text may contain duplicate content, highlighting passages that require citations and giving you resources to properly credit your sources*.
"Grammarly is a game-changing tool for students," says Shadya Mahfouz, Academic Dean for Niagara College – Toronto. "We are always looking for ways to support our students in developing the communication skills they need to succeed in the classroom and beyond and we hope that all our students take full advantage of this opportunity to improve their writing."
Students can log in to Grammarly by going to grammarly.niagaracollegetoronto.ca and using their NCT student email and password. Once there, simply upload your document or copy and paste your writing to the platform. You can also enable Grammarly wherever you type on your computer with the Chrome extension for Grammarly. New users can review Grammarly Editor User Guide for tips and further guidance.
*As a Niagara College-Toronto student, you remain responsible to uphold the College's standards for academic integrity and honesty.
LinkedIn Learning
NCT would also like to remind students that LinkedIn Learning is available and free to use for students.
LinkedIn Learning is a comprehensive online resource that provides thousands of virtual courses, which can be tailored to your personal preferences, interests, and career path.
To access LinkedIn Learning, head over to linkedin.nctorontostudents.ca and use your NCT student email and password to log in.
For assistance with accessing Grammarly or LinkedIn Learning, contact the student information technology (IT) helpdesk at support@nctorontostudents.ca.
---