NCT's New Campus Home & Temporary Locations for Fall 2022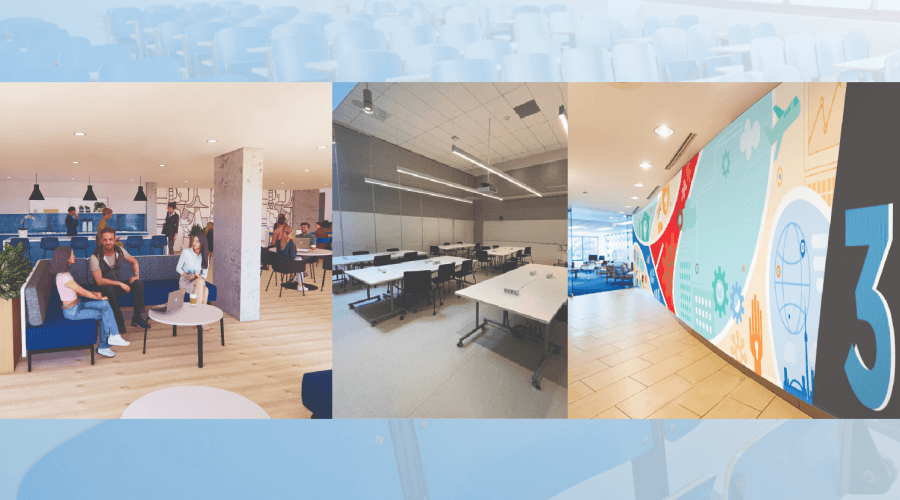 August 26, 2022
Niagara College – Toronto (NCT) is very excited to announce that it will be opening the doors to its new permanent campus location this Winter 2023. The new campus will be located in the city-renowned community of Mirvish Village, in downtown Toronto – just over 3 kilometres away from NCT's current campus location at 22 College Street.
All new and returning NCT students will have their classes scheduled at this new, state-of-the-art facility, starting in Winter 2023.
As phase 1 of the campus launch, this new NCT campus will feature three floors spanned over 45,000 square feet of brand-new facilities designed with students in mind to support and promote a collaborative learning experience.
In addition to state-of-the-art classrooms and computer labs, the new facility will also include:
A library and learning commons space
Food services
A dedicated NCT campus store, stocked with school merchandise and other school supplies,
A rooftop deck where students can gather with friends and enjoy a spectacular view of Toronto!
Much more!
Additionally, the campus is nested within Mirvish Village, which means students have easy access to a variety of amenities including a 25,000 square-foot public market, many restaurants, cafés and patios. Mirvish Village also plays host to street festivals, film screenings, and concerts.
Our teams are preparing to welcome students at this new location for campus tours ahead of the Winter 2023 term. More details about when and how to book campus tours will be made available once the construction has been concluded. Stay tuned!
Interim Campus Locations for Fall 2022
As we plan the transition to NCT's permanent home for Winter 2023, the following two additional, temporary locations have been made available to students for Fall 2022:
22 College Street, Toronto (Education House) - our current home!
124 Eglinton Avenue West, Toronto
9 Lower Jarvis Street, Toronto
Both of our temporary locations are designed with students in mind and are fully equipped with all the amenities we have come to enjoy at our 22 College St. location, as well as easy access to the Toronto Transit Commission (TTC) transit. We will be holding campus tours in late August at these temporary locations. Current students should watch their emails for further details about tour times!
22 College Street (Education House) - Our current home!
A prime location in downtown Toronto, Education House is a 35,000 square foot space of newly renovated classrooms, computer labs, a state-of-the-art auditorium, student lounge, student-run café, and more
124 Eglinton Avenue West
Located in the heart of midtown Toronto, 124 Eglinton Avenue West is part of the neighbourhood of Yonge and Eglinton. Surrounded by trendy shops, delicious restaurants and multiple services, and conveniently located near the TTC's Line 1 Yonge-University subway and the future Eglinton Crosstown Line.
9 Lower Jarvis Street
Lower Jarvis is a beautiful new facility at Université de l'Ontario français, right by scenic Lake Ontario! Steps from the famous Sugar Beach, this location features ferry access to the Toronto Islands and easy TTC access!
We are excited to welcome our students at our new locations. Students will be invited to a webinar to learn more about each particular temporary location, and to answer any questions about each facility. More details about the webinar will be sent by email. Please continue to monitor your emails!
Have any questions?
As always, please do not hesitate to reach out to your NCT Student Services team, if you have any questions or comments.
We are excited to see our students at our new locations and look forward to sending more details as we get closer to Winter 2023!
---