Niagara College Canada Announces New Partnership with Toronto School of Management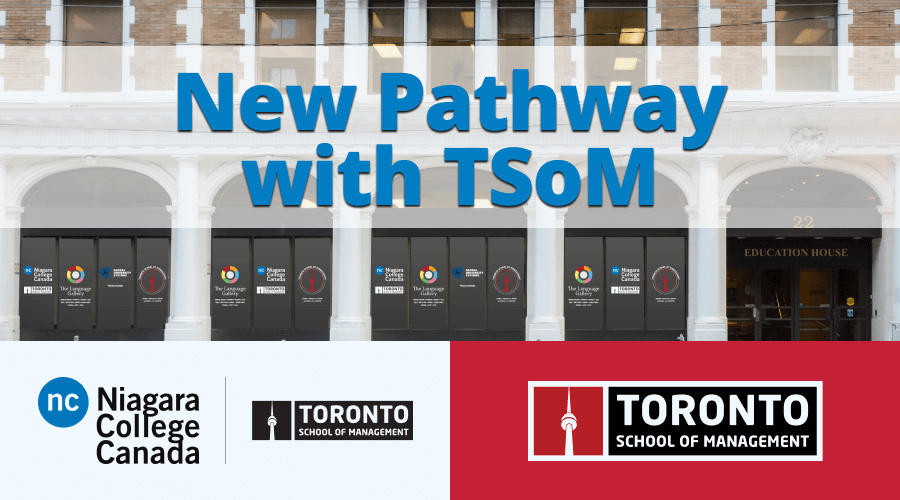 April 27, 2022
Niagara College Canada (NC) and Toronto School of Management (TSoM) have announced an innovative articulation agreement that gives eligible TSoM students the opportunity to continue their studies at the Niagara College – Toronto (NCT) partnership location.
Select Niagara College's business and hospitality programs are delivered at TSoM's Education House in downtown Toronto and provide international students with the opportunity to enroll in NC programs while accessing the significant employment, recreational and entertainment opportunities offered in Toronto. The articulation agreement waives the Proof of English requirement for students who have completed at least a 1-year program at TSoM. Other benefits include credit transfer savings for eligible program graduates, an adjusted course load, and the opportunity to apply for a Post-Graduation Work Permit (PWGP) of up to three years upon graduation with a Niagara College credential.
Ehsan Safdari, President of TSoM and NCT, expressed his delight at this new milestone for the two learning institutions: "Through this partnership with Niagara College, we have opened yet another door of opportunity for our students who wish to experience the sought-after educational programs Niagara College has to offer, within the convenience and guidance of TSoM,'' he said. "We aim to develop more competitive professionals and leaders in the business sector as more and more students from around the world pursue our innovative academic programs."
Niagara College – Toronto is equipped with newly renovated facilities including classrooms, computer labs, a state-of-the-art auditorium, complete with student lounges and a student-run café.
About Niagara College Canada
Situated in the heart of the Niagara Region, Niagara College delivers than 130 diploma, bachelor degree and advanced level programs; as well as more than 600 credit, vocational and general interest Part-Time Studies courses. Areas of specialization include food and wine science, advanced technology, media, applied health and community safety, supported by unique learning enterprises in food, wine, beer, distilling, horticulture and esthetics. Currently, more than 9,000 full-time students study at Niagara College's two specialized campuses in Niagara-on-the-Lake and Welland, Ontario. As a culturally and globally engaged College, Niagara College also offers partner delivery locations within Canada and around the world.
Visit Toronto School of Management website to learn more about the pathway programs available.
---