Niagara College – Toronto (NCT) celebrates graduates with first-ever Convocation ceremony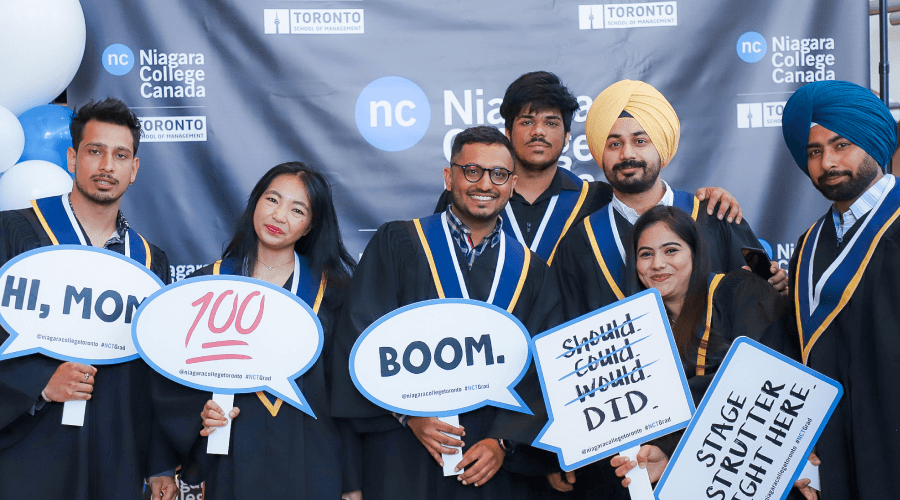 July 6, 2022
Niagara College – Toronto had the great pleasure to recognize the achievements of its students with the college's first ever convocation ceremony on June 28th, 2022, at the Lyric Theatre at the Meridian Arts Centre, in Toronto.
"I hope that everything you learned and experienced in your time here at NCT, serves you in whatever comes next," said President of Toronto School of Management, Ehsan Safdari, in his address to students, "And with your journey at NCT complete, we look forward to seeing all you do and accomplish as you start on the next journey…."
The ceremony also included a message from Sean Kennedy, President of Niagara College. "Graduates, remember that you are part of an amazing NC alumni family making a difference in communities across our region, province, country and around the world," said Kennedy. "Please keep in touch with each other, and with us. Nothing brings us more joy than seeing you succeed. Congratulations to the class of 2022."
Niagara College – Toronto gathered in-person with 97  of its 126 graduating students, their families and loved ones, to celebrate all of their accomplishments. The graduating class brought together three different graduate certificate programs: Human Resources Management, Hospitality and Tourism Management, and International Business Management. The event was a great success and Niagara College – Toronto looks forward to supporting its graduates in the next step of their professional journeys.
Congratulations to the graduating Class of 2022!
To watch the ceremony, see the link to our streaming video: https://youtu.be/gZm9dBm-llE
---