University Canada West Offers New Master of Business Administration Degree Pathway Opportunity for Niagara College Students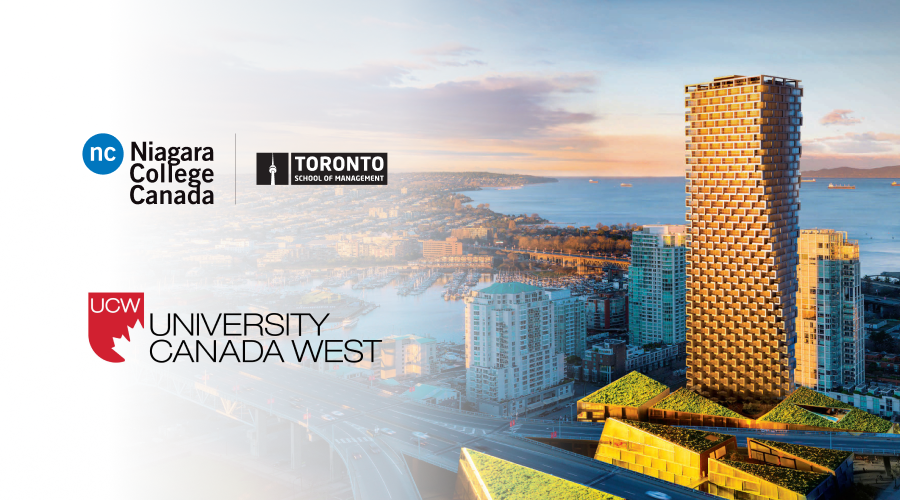 February 23, 2022
An exciting new pathway opportunity has been announced for Niagara College (NC) and Niagara College – Toronto (NCT) graduates. Students who successfully complete one of the selected NC programs at either of its campuses (Niagara College - Niagara Region or Niagara College - Toronto) can now transfer their course credits to University Canada West (UCW) to continue their studies with an accredited Master of Business Administration (MBA) degree.
Located in scenic Vancouver, Canada, UCW is an innovative business and technology-oriented institution. Students in the MBA program will be focused on enhancing competencies across areas such as leadership, critical thinking, project planning and a host of further advanced business disciplines.
Students who graduate from NC's International Business Management Graduate certificate program, Hospitality and Tourism Management Graduate certificate program, or Human Resource Management Graduate certificate program, will receive up to four courses or 12 credits towards the MBA degree at UCW. Additional eligibility may apply.
"This is a wonderful opportunity for students to continue their studies and access higher levels of education in Canada," says Diana Mokute, VP of Partnerships & Business Development at Global University System (GUS) Canada. "We are delighted to partner with UCW in making this excellent MBA program available to our students."
Other potential benefits for former NC and NCT students include an adjusted course load, credit transfer savings, scholarship options, proof of English exemption, two highly desirable Canadian credentials upon graduation and the eligibility to apply for a post-graduation work permit* upon completion of their MBA (*Valid as of January 17, 2022).
For more information, or to apply now, please contact your NCT Student Advisor or visit the UCW website at: https://www.ucanwest.ca/graduate-programs.
To learn more about UCW admission requirements, please visit: https://www.ucanwest.ca/admissions/graduate
For available UCW scholarships and awards please visit:
https://www.ucanwest.ca/admissions/awards-scholarships
*Terms and Conditions apply.
---