Winter 2023 Program Delivery for Niagara College – Toronto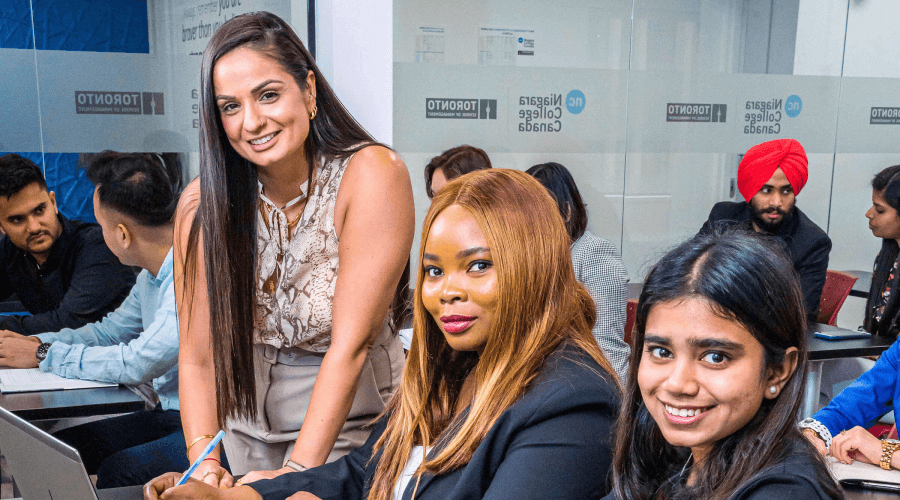 December 2, 2022
Niagara College – Toronto (NCT) looks forward to welcoming its students for the Winter 2023 term!
NCT will continue to offer a blended learning model combining both on-campus and remote learning, providing students with flexibility while maintaining an exceptional learning experience.



A reminder that all students are required to be in Canada with a valid study permit to attend mandatory on-campus courses. New students are required to be in Canada on January 3rd, 2023 for a mandatory, in-person New Student Orientation.
---
On-Campus Learning
Courses with mandatory on-campus learning will continue to have resources available in our Learning Management System (LMS) Canvas portal to encourage collaboration and learning outside of scheduled class times. All evaluations will happen on campus and in person.
---
Remote Learning
Remote learning will only be available for certain courses and will be synchronous or asynchronous. Students will utilize Canvas, Zoom/MS Teams and other digital tools that support active learning, as well as student-directed learning and when appropriate, real-time collaboration. Certain major evaluations such as presentations and final exams may be conducted in person. Such occurrences will be scheduled ahead of time and will be indicated in the Teaching & Learning Package provided to students at the start of each term.
---
Course Selection
Students will be able to see which courses are offered remotely and which are on campus by accessing their online timetable. Please refer to the Important Dates webpage for timetable selection dates as well as other important deadlines for the Winter 2023 term.
A reminder that December 1st, 2022 is the last day to upload proof of visa approval to the NCToronto Student Portal for the upcoming Winter 2023 term*.
*New students must provide a copy of their study permit approval in order to select a timetable and confirm a seat for Winter 2023. Students who submit study permit approvals after December 1st, 2022, are subject to program seat availability. Students that submit a study permit after December 1st may be deferred to a later term if space is no longer available.
---
Campuses
NCT had previously announced it will be opening the doors to its new permanent campus location this Winter 2023 in the city-renowned community of Mirvish Village. However, due to challenges involving construction and global supply chain delays, a decision has been made to postpone transition to the new campus until May 2023. This decision will ensure that the campus is fully ready to welcome all students to its brand-new, state-of-the-art facilities, designed with students in mind.
Mirvish Village campus tours will be held in March and April 2023 to familiarize NCT students with the new campus ahead of the Spring 2023 term.
As we continue to prepare to move to our new home, Winter 2023 classes will be held in the following temporary locations:


22 College Street (Education House)
A prime location in downtown Toronto, just steps from the TTC's College Street station, Education House is a 35,000 square foot space of newly renovated classrooms, computer labs, a state-of-the-art auditorium, student lounge, student-run café, and more.
Business – General, Term 3

Computer Programming, Term 2

Human Resources Management, Term 1 & 2
124 Eglinton Avenue

Located in the heart of midtown Toronto, 124 Eglinton Avenue West is part of the neighbourhood of Yonge and Eglinton. Surrounded by trendy shops, delicious restaurants and multiple services, and conveniently located near the TTC's Line 1 Yonge-University subway and the future Eglinton Crosstown Line.
Business – Accounting, Term 1

Business – General, Term 1, 2 & 4

Business – Sales and Marketing, Term 1 & 2

Computer Programming, Term 1
9 Lower Jarvis Street
Lower Jarvis is a beautiful new facility at Université de l'Ontario français, right by scenic Lake Ontario! Steps from the famous Sugar Beach, this location features ferry access to the Toronto Islands and easy TTC access!
Hospitality and Tourism Management, Term 1 & 2

International Business Management, Term 1 & 2
Please do not hesitate to reach out to studentservices@niagaracollegetoronto.ca if you have any questions, or connect with us by phone at our Main Campus Line: +1 647-799-4830.

You may also book a one-on-one meeting with a student advisor at a convenient time here. For our business hours and further contact details, please navigate to our Contact Us webpage.

NCT looks forward to welcoming our students this winter!
---